27 July 2021
Nissan Patrol: Off-Road Icon Celebrates 70 Years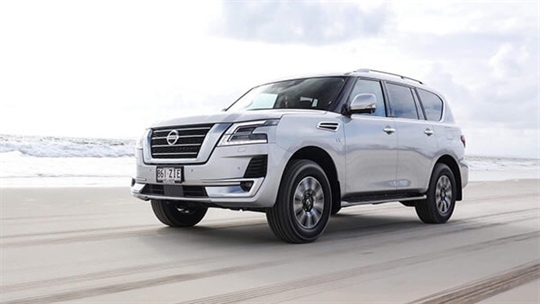 MELBOURNE, Australia (July 27, 2021) – The iconic Nissan Patrol has continued to drive into uncharted territory and become one of the longest running continuous automotive nameplates as it celebrates its 70th anniversary in 2021.
The legendary four-wheel drive has been a mainstay for off-roading enthusiasts, adventurous families and overland tourers since it was first released in 1951, collecting an enviable cabinet of trophies and assisting a number of milestone explorations across the globe along the way.
Australia has played a significant role in the Patrol's heritage, becoming one of the first international markets to sell the rugged off-roader outside of Japan when it arrived locally in 1961 with the introduction of the second-generation G60 Datsun Patrol.
One year later, a Nissan Patrol was the first motorized vehicle to cross the Simpson Desert when geologist Reg Sprigg, his wife Griselda and children Marg and Doug, charted a path over more than 1100 sand dunes.
Since its arrival in Australia, and through five major generational changes, Nissan has sold more than 238,000 Patrols locally.
It has also scored more than 17 major Australian motoring awards from specialist 4x4 publications and mainstream media outlets, chalked-up a record 15 consecutive Australian Off-Road Championships and has been the outright winner of the gruelling Australasian Safari four times.
"The Patrol has been an integral part in the success of Nissan here in Australia and, over the same time, has opened many new pathways for Australians to explore this rugged country thanks to its renowned off-road abilities and dependability," said Adam Paterson, Managing Director of Nissan Motor Company Australia.
"Patrol has been a constant presence for the brand in Australia and even pre-dates the official formation of Nissan Motor Company Australia in 1966.
"We are extremely proud of the role this country has played in the Patrol's storied history, and all of the significant accolades it has achieved locally that have contributed to the Patrol reaching this milestone.
"In 2021, the Nissan Patrol is as popular as ever with year-to-date sales up by more than 20 per cent compared to the same period in 2020.
While the current Y62 Patrol is one of the most technically advanced vehicles in its class, equipped with a full suite of Nissan Intelligent Mobility safety features, cutting-edge hydraulically linked suspension, a powerful V8 engine and a spacious and luxurious cabin crammed with modern conveniences, the Patrol's origins are much more humble.
Nissan's first-generation four-wheel drive, the 4W60, was launched in 1951 and featured a 3.7-litre in-line six-cylinder engine that produced 56kW and drove a part-time four-wheel transmission via a four-speed manual gearbox. It was sold exclusively in Japan and adopted the Patrol nameplate when it was updated with the 4W65 model in 1958.
The second-generation G60 arrived in Australia in 1961 as the Datsun Patrol with a modern overhead valve 4.0-litre in-line six-cylinder that generated 92kW and was offered in soft-top, wagon or cab-chassis body styles. It went largely unchanged for almost 20 years until it was replaced by the hugely popular MQ-Series Datsun Patrol in 1980.
The MQ Patrol tapped into the growing popularity for recreational four-wheel drives with more car-like features and handling and introduced the seven-seat wagon concept that the Patrol retains today.
It was available as a short wheelbase Hardtop model with a removable roof while the long wheelbase configuration allowed for a wide range of pick-up, cab-chassis and wagon variants. When launched, it came with a choice of either a 2.8-litre petrol or 3.3-litre diesel six-cylinder engine and was the first Patrol to be offered with an automatic transmission, a three-speed unit that was exclusively available in the range-topping Deluxe Wagon.
The MQ Patrol was also the first model to introduce a turbo-charged diesel engine option in 1984 with addition of the optional SD33T six-cylinder engine producing 81kW of power and 255Nm of torque.
Nissan re-set the benchmark for four-wheel drives in 1987 when the hugely popular GQ Patrol arrived with all-coil-spring suspension that offered an ideal blend of long-travel articulation for off-roading and comfortable on-road dynamics for everyday driving.
It was initially offered with a choice of all-new 4.2-litre petrol or diesel six-cylinder engines with either a five-speed manual or four-speed automatic. The powertrain range was expanded in 1990 with the addition of a 3.0-litre petrol six – a unique version of the iconic RB30 from the Skyline sedan – in entry-level models and again in 1995 with a 2.8-litre turbo diesel.
The fifth-generation GU Patrol launched in 1997 and brought a sleeker, more spacious body as well as significant improvements to chassis, suspension and driveline components that increased overall refinement. It was powered by either an improved version of the 2.8-litre turbo-diesel six, which now featured electronic fuel injection and an intercooler, or a revised 4.2-litre naturally-aspirated six. A turbo charged variant of the big six arrived in 1999, an all-new ZD30 3.0-litre turbo four-cylinder replaced the smaller six in 2000 and the petrol six-cylinder increased its capacity to 4.8-litres in 2001, producing 185kW and 420Nm - making the Patrol the most powerful four-wheel drive in its class.
The GU series is the most popular Patrol model to be sold in Australia, setting record volumes of more than 10,000 units per year between 1998 and 2000. During that time, one in every four Nissan vehicles sold locally was a Patrol and Australia was the largest market in the world for the iconic four-wheel drive.
With the arrival of the high-tech Y62 series in 2014, the Patrol shifted up a gear and took on a more refined character. It was exclusively available as a wagon with a 5.6-litre petrol V8 and focused more intently on its on-road performance than ever before, bringing world-first technologies such as the digital Intelligent Rear View Mirror (introduced in 2017) and a sophisticated fully-independent suspension set-up with Hydraulic Body Motion Control.
Nissan Australia continued to offer a limited range of GU Patrol variants, including cab-chassis workhorse models, up until 2016.
The Y62 Patrol was refreshed in 2020 with a stylish new exterior design and additional safety features, including a comprehensive suite of Nissan Intelligent Mobiliy functions such as Intelligent Emergency Braking, Forward Collision Warning, Active Cruise Control and Intelligent Lane Intervention.
1962 Simpson Desert Crossing
One of the Nissan Patrol's earliest – and most significant – achievements happened in September 1962 when renowned geologist Reg Sprigg, along with his wife Griselda and children Marg and Doug who were aged just 10 and 7 at the time, became the first to cross the Simpson Desert in a motor vehicle.
The family took over 12 days to drive a G60 Patrol from Andado Station in the Northern Territory to Birdsville in Queensland, charting the route that would eventually be known as the French Line – the most popular East-West track across the spectacular 176,500 square kilometre region that contains the world's longest parallel sand dunes.
The Sprigg family recorded an average speed of just 5km/h and often risked their lives when the vehicle, which carried a 200L drum of petrol in the back, became 'beached' on giant outcrops of saltbush and the hot exhaust ignited the dry desert scrub.
Reg Sprigg went on to create Australian energy company Santos and then Beach Petroleum as a result of his outback explorations and established his Arkaroola Station in the Flinders Ranges as a wilderness conservation area which is still in place today and managed by Marg and Doug.
In 2012, Nissan Australia created a re-enactment of the Sprigg's Simpson Desert Crossing with Marg and Doug driving a similar G60 Patrol from Dalhousie Springs to Birdsville. This time, it took them just five days.
Nissan Patrol in Motorsport
An important pillar in the development of the Nissan Patrol's rugged reputation was created from competing in – and winning – some of the world's toughest motorsport events, including the gruelling Dakar Rally and the Australasian Safari.
The Patrol created history in 1987 when Spaniards Miguel Prieto and Ramon Termens finished the 13,000km Paris-Dakar race in ninth position, winning the diesel category of the event.
The iconic Fanta Limon-liveried short wheelbase Patrol was donated to a Spanish car collector after the event where it remained hidden in a basement for 30 years. In 2016, a team of technicians from Nissan's European Technical Centre restored the vehicle to its race-winning glory.
Closer to home, the Patrol has notched up four outright victories in the Australasian Safari, coming home first in 1992 (Reg Owen), 1993 (Ian Swan), 1995 (Doug Manwaring) and 2003 (John Herderics).
But it was in the unmodified division of the Australian Off Road Championship where the Patrol dominated, winning the title for 15 consecutive years between 1983 and 1998 with Griffith rice farmer, 'Legend' Les Siviour, scoring all but one of them.
Award-winning Patrol
Beyond its podium successes, the Nissan Patrol has been acknowledged as the best off-roader by a number of authoritative and independent sources over the last 70 years, collecting a cabinet full of trophies along the way.
It has won no less than 13 individual awards from leading specialist publication 4x4 Australia, including the overall 4x4 Of The Year four times (1987, 1997, 2001 and 2002).
In 2002, it scooped the pool in Australian 4WD Monthly's annual awards, winning 4WD Ute of the Year, Best Heavyweight Ute and Best Diesel 4WD. It chalked-up another three-peat in 2003, winning the Best Diesel Wagon, Best Petrol Wagon and the overall 4WD of the Year.
Most recently, the Y62 Patrol has also received recognition from Drive.com.au as the Best Large SUV in its prestigious 2021 Car of the Year awards.
Patrol in pop culture
The Nissan Patrol has played numerous important roles and assisted countless communities over its 70-year history.
In various guises, it has been a dependable addition to Australian Police, Fire Brigade and Emergency Service fleets, particularly in rural areas that often need to navigate rough terrain.
And it has been an automotive sidekick for a wide range of celebrities, including VFL legend-turned-TV fishing personality, Rex Hunt, four-wheel drive adventure specialist Pat Callinan and conservationist Steve Irwin.
The Patrol became a Guinness World Record holder for the first time in 2013 when it towed the world's heaviest aircraft, a 170-ton Ilyushin-76 cargo plane, for over 50 metres at the Sharjah International Airport in the United Arab Emirates.
In 2015, the Patrol set another Guinness World Record for the fastest ascent of a 100-metre sand dune when it took just 4.9 seconds to climb the famous Wadi-Rum dune in Jordan.
And, in 2018, a group of 180 Nissan Patrols in Dubai set a new Guinness World Record for the largest synchronized car dance when two concentric lines of cars were driven in the opposite direction to create the figure of a flying falcon
Nissan Patrol: Model by Model
Nissan 4W-Series 1951-1959
Body styles: Soft top, Wagon and Fire Truck
Engine: 3.7-litre in-line six-cylinder petrol
Transmission: Four-speed Manual
Datsun Patrol G60-Series 1959-1980
Body styles: Short wheelbase soft top and Wagon, Long wheelbase wagon, cab-chassis and pick-up
Engine: 4.0-litre in-line six-cylinder petrol
Transmission: Three-speed manual
Datsun-Nissan Patrol MQ-Series 1980-1987
Body styles: Short wheelbase soft top and hard top, Long wheelbase wagon, cab-chassis and pick-up
Engines: 2.8-litre in-line six-cylinder petrol, 3.3-litre in-line six-cylinder diesel, 3.3-litre in-line six-cylinder turbo diesel, 4.0-litre in-line six-cylinder petrol
Transmissions: Four-speed manual, Three-speed automatic
Nissan Patrol GQ-Series 1987-1997
Body styles: Short wheelbase hard top, Long wheelbase wagon, cab-chassis and pick-up
Engine: 2.8-litre in-line six-cylinder turbo diesel, 3.0-litre in-line six-cylinder petrol, 4.2-litre in-line six-cylinder petrol, 4.2-litre in-line six-cylinder diesel
Transmission: Five-speed manual, four-speed automatic
Nissan Patrol GU-Series 1997-2016
Body styles: Long wheelbase wagon and cab-chassis
Engines: 2.8-litre in-line six-cylinder turbo diesel, 3.0-litre four-cylinder turbo diesel, 4.2-litre in-line six-cylinder turbo diesel, 4.8-litre in-line six-cylinder petrol
Transmission: Five-speed manual, Five-speed automatic
Nissan Patrol Y62-Series 2014-Present
Body styles: Long wheelbase wagon
Engine: 5.6-litre V8 petrol
Transmission: Seven-speed automatic
Book a test drive on the Nissan Patrol at South Nowra Nissan