30 October 2018
Nissan returns to SEMA with five one-of-a-kind vehicles, including the debut of a 295kW 370Z Projec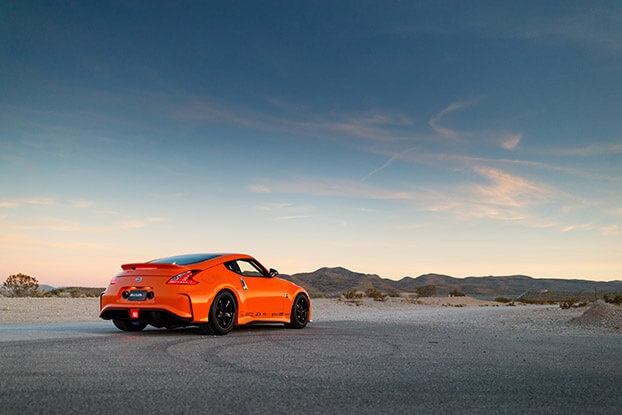 From a do-it-yourself Nissan 370Z muscle master to a traveling Nissan Kicks DJ booth, Nissan returns to the SEMA (Specialty Equipment Market Association) Show in Las Vegas with five diverse offerings.
For the 2018 edition of the world's premier automotive specialty products trade event, Nissan is showcasing the Nissan 370Z, the all-new Nissan Kicks subcompact SUV and Nissan TITAN full-size pickup – each highly modified for specialty tasks ranging from motorsports to public service.
Here's an overview of what will be on display Oct. 30-Nov. 2 at Nissan North America Booth 50213, located in the Performance Pavilion and Bronze Lot of the Las Vegas Convention Center:
Nissan Project Clubsport 23
Celebrating the iconic Nissna 370Z, the Nissan Project Clubsport 23 is an ongoing parts development platform built with ultimate goal of creating a vehicle that owners could duplicate themselves using Nissan Motorsports or aftermarket parts.
Starting with an older Nissan 370Z NISMO, the original 253kW 3.7 litre VQ37VHR engine was replaced by a factory fresh 3.0 litre VR30DDTT twin-turbo V6 rated at 295kW.
Extensive enhancements were made to the suspension, steering, braking and cooling system.
Exterior and interior modifications include custom body panels and Gloss Burnt Orange body wrap, along with a full roll cage and diamond-pattern upholstery offering a contemporary throwback to the diamond pattern vinyl used in the original 240Z.
Topping off the project are NISMO-branded RAYS cast aluminum-alloy 18x10.5-inch wheels and Hankook RS4 285/35R18 high performance tyres.
More details and photography on this vehicle are available HERE .
Chris Forsberg Formula DRIFT 370Z
Three-time Formula DRIFT Champion Chris Forsberg's instantly recognisable Nissan 370Z takes time off the racing circuit to make an appearance at the Nissan SEMA display.
With a twin-turbo VQ engine tucked under the carbon fiber body panels, this car is the essence of "show and go."
Nissan Kicks Sound Machine
The Kicks Sound Machine was fabricated at Vehicle Effects in Hollywood. It made its debut at the BET Awards in Los Angeles in July.
The project includes the Kicks' class-exclusive¹ Bose® Personal® Plus sound system with eight speakers and proprietary Bose® signal processing and a pair of lightweight 2.5-inch Bose® UltraNearfield™ neodymium speakers located inside the Kicks' driver's seat head rest.
This sound machine on wheels is built off of the all-new Nissan Kicks SR and is powered by a stock 1.6 litre four cylinder engine.
To "Kicks" things up a notch, builders added:
Eight Bose Virtually Invisible® 791 speakers, custom built composite panel and speaker housing, three Bose F1 1,000W powered subwoofers, and two Bose RoomMatch Utility RMU206 speakers
Hidden speakers revealed by pneumatic roof panel, with one Bose PowerMatch PM8500 configurable amplifier, one Bose ControlSpace CC-64 controller, and one Bose ControlSpace ESP-880 sound processer with ethernet card
Three Bose Panaray® MA12EX loudspeakers
Pneumatically-controlled speakers hidden under the vehicle
Professional disk jockeying equipment, including articulating rear drawer (reveals DJ controls), one Pioneer DJM-900NXS2 DJ Mixer, two CDJ-2000NXS2 Pro-DJ multi players
Custom 18-inch aluminum-alloy wheels
Nissan Ultimate Service TITAN
The one-of-a-kind Nissan Ultimate Service TITAN started life as a TITAN XD Diesel Midnight Edition Crew Cab powered by a stock Cummins® 5.0 litre V8 Turbo Diesel engine.
It was transformed into a mobile response unit built to serve in collaboration with the American Red Cross in South Florida.
A B&S Customising Lightweight Bed Box highlights a long list of features included on this first response vehicle.
From disaster relief efforts to employee blood drives, Nissan's partnership with the American Red Cross has raised more than $2.5 million in donations over the past five years. The truck is prepared with the following amenities:
With a desk, solar power generator and a built-in Wi-Fi hotspot, it can serve as a perfect mobile command center for volunteers
Equipped with a bed and first aid kit, the vehicle allows first responders to provide on-site care to those injured in an emergency
A built-in refrigerator and the vehicle's rugged-terrain capability allows the TITAN to serve as a blood-supply delivery vehicle that can transport blood to hospitals in need
For rescue and relief workers, the TITAN can serve as a place to find shelter, food and a much-needed place to rest between shifts, thanks to the temperature-controlled box that features a resting area, stove, microwave, sink and refrigerator
In conjunction with Red Cross Blood Drive efforts, the Ultimate Service TITAN can also serve as a place to give or collect blood donations from the field
PAWS ONE TITAN
Created to assist stranded animals in the wake of disaster, PAWS ONE is a 2018 Nissan TITAN XD Gas PRO-4X animal rescue vehicle making its debut at SEMA.
The vehicle was built in collaboration with Animal Rescue Rigs (ARR), a new animal rescue 501(c)(3) charity dedicated to providing support during and after natural disasters.
PAWS ONE is slated for deployment under the name of PAWS TWO in 2019.
Once in service, PAWS TWO is intended to be operated by highly skilled search and rescue staff along with experts trained to operate specialised vehicles.
For additional information on PAWS ONE and Animal Rescue Rigs, visit animalrescuerigs.com .
The 2018 SEMA Show runs Oct. 30 through Nov. 2 at the Las Vegas Convention Center.
1AutoPacific segmentation. Available feature. 2018 Kicks vs. latest in-market competitors in XSUV Compact Class. Based on manufacturers' websites.